Reverse Osmosis Filtration Systems: Not All Water Is Equal
Many off-the-shelf filters only reduce the most common impurities in Brookings. But now there's a smarter way to filter your water, one that addresses the unique content of your water.
Every tap is different. Depending on the location of your local area home, or even the day, your water may have impurities, bad flavor, or any number of unwanted contaminants*. But now there's a smarter way to filter your water, one that addresses the unique content of your water.
The Aquasential® Smart Reverse Osmosis (RO) From Culligan
With up to 7 stages of filtration and 12 filter options, the Aquasential® Smart Reverse Osmosis Filter is certified for reduction of 58 contaminants which includes 15 emerging contaminants. These contaminants could include lead, arsenic, pharmaceuticals and volatile organic compounds (VOCs).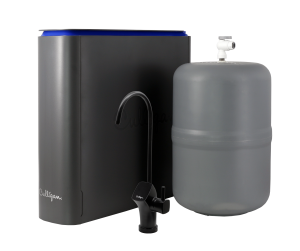 The Culligan® Aquasential™ Tankless RO System
Looking for better performance out of your home's water filtration without sacrificing space? The Culligan® Aquasential™ Tankless Reverse Osmosis (RO) System provides better water when and where you need it.
The sleek design, which requires 2/3 less pace than traditional RO systems, is complimented by some of the best water filtration technology on the market. The new dashboard panel provides real-time feedback on water quality, and the health of your actual system. Additionally, you can reduce total dissolved solids and particulates found in tap water by 95%.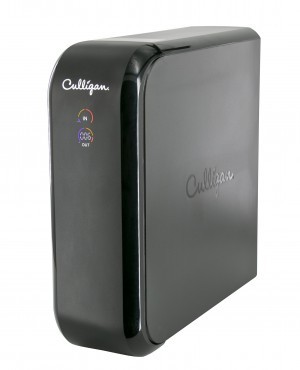 Not All Drinking Water Solutions For Your Brookings Home Are Created Equal
Culligan offers various filtration options that can be tailored to meet your specific water needs.
Culligan's RO systems provide healthy water for your home or office at less cost, and less hassle. The long-lasting filters give you a continuous supply of great tasting water for pennies a glass, without the hassle of single-use bottles.
Each Culligan Reverse Osmosis Water Filter helps reduce the amount of plastic bottles that end up in landfills along with decreasing the amount of oil and gasoline used to produce and deliver them.
Why Reverse Osmosis Over Pitcher/Faucet Mount Filters?
Reverse Osmosis filtration is one of the most effective ways to remove impurities from your water. By removing these contaminants that can adversely affect the taste and odor of tap water, you can have fresher, better tasting water right from your tap. Advanced RO technology is customized to help you get the best tasting water, so even if you're dealing with extremely hard or poor-quality water, reverse osmosis filters from Culligan deliver fresh, great-tasting water right from your kitchen sink.
RO filters are one of the most reliable methods of eliminating drinking water contaminant(s) that can be harmful to your health. These contaminants are pervasive in many water supplies across the country and include lead, radium, aesthetic chlorine, hexavalent chromium (chromium-6), and arsenic.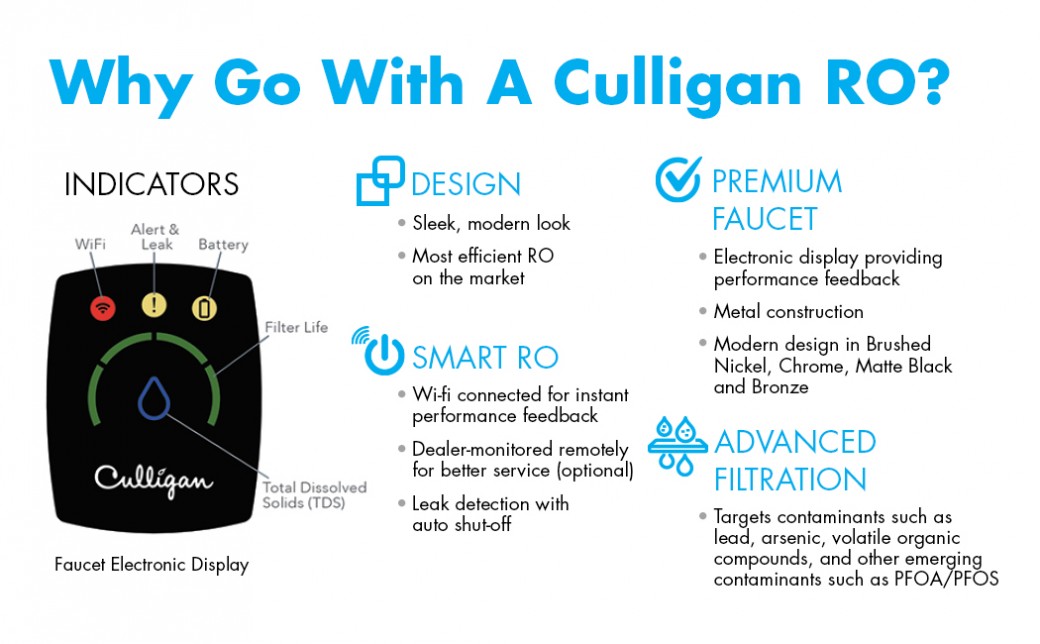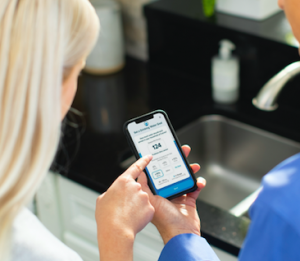 Get Control Over Your Water With Culligan® Connect Consumer App!
It's easy to connect with and monitor your Culligan devices – right from your smart phone or tablet.
See all your Culligan connected products on one screen
Manage your water softener remotely
Dive into greater detail about water usage and product performance
Optional remote monitoring and leak-sensing technology available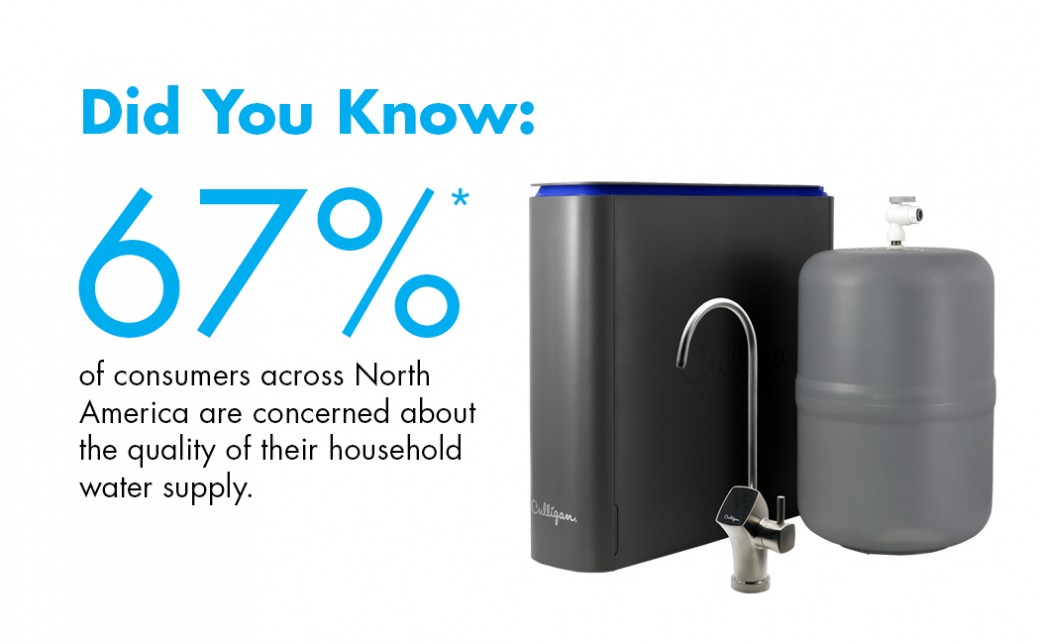 Aquasential™ Smart Reverse Osmosis Product Specifications
2-in-1 sediment and carbon filter screens out sediment and particles, reducing elements that cause water to taste and smell unpleasant, including the taste and odor of chlorine.
Reduces dissolved substances such as radium, arsenic V, and many others. Various capacity membranes available.
Optional specialty filters available providing a range of benefits including pH balance or the reduction of additional substances such as VOC, pharmaceuticals and mercury.
A second carbon filter ensures your drinking water is cleaner and fresh.
Manifold assembly molded using SteriTouch® resin, the patented single manifold ensures reliability and houses four separate filters.
Designer faucet with multiple finishes are available. Premium metal construction faucet has water quality alerts and filter life indicators in an easy to read display.
Durable, high-quality jacketed steel tank ensures you'll have plentiful supply of refreshing water.
The Benefits of A Culligan Tankless RO Go Beyond Saving Space
When you purchase a new product that is refined, elegant, and smart, you want more than just good looks.
Longevity matters. Tired of changing your water filter every two months? How about never again? Our RO membrane contains a three-year shelf life, which is easily serviced when the time is appropriate by a Culligan water expert. For pricing on replacement RO membranes, ask us!
Price point is flexible. Our system is not the cheapest on the market. But it will serve your home and family the best. We offer purchasing and finance options for all homeowner budgets, along with unbeatable expertise and customer service backed the best warranty in the business.
Stay informed. Worried about that boil water alert in your area? Our state-of-the-art dashboard panel allows you to see filter life and TDS status in real-time.
More water than ever before. For families of all sizes. This small system works big. It is capable of producing up to 30 gallons of water per day.
Frequently Asked Questions about Culligan Reverse Osmosis Systems
1. I have heard a lot about Chromium 6 in drinking water in the news. What is Chromium 6 and can Culligan equipment filter out Chromium 6?
Yes, chromium six (or hexavalent chromium) has recently been discovered in limited amounts in some water supplies. Chromium six is suspected of being a carcinogen, and should not be ingested at amounts above the federally mandated limits. We have never been alarmists, but if you are concerned about the quality of the water you drink, you might want to consider a reverse osmosis system. Reverse Osmosis is the only readily available system that removes up to 97% of Chromium-6.
2. What is Reverse Osmosis (R.O.)?
Reverse osmosis is a sophisticated multi-stage filtration system that is capable of removing up to 97% of all the dissolved minerals from your water. It is designed to make water that is at least as good as the water you buy in bottles. Many times, it's even better. This reduces waste in landfills by using less bottled water, making reverse osmosis environmentally friendly.
3. Is Reverse Osmosis water really as good as bottled?
Yes - The system uses multiple processes including Reverse Osmosis to make great tasting, low sodium drinking water. Reverse Osmosis removes about 97% of the TDS (Total Dissolved Solids) including salt and sodium from the water. Read the labels on bottled water and you will discover Reverse Osmosis is the same process used by most bottlers ... so in effect ... you really are getting ... "bottled water ... without the bottle".
4. I already have a filter in my refrigerator? Why do I need anything else?
Refrigerator filters are typically just carbon, and while carbon filtered water is better than no treatment at all, it is limited in what it can remove. Only reverse osmosis is capable of removing dissolved minerals and chemicals from your water.
*contaminants may not be in your water